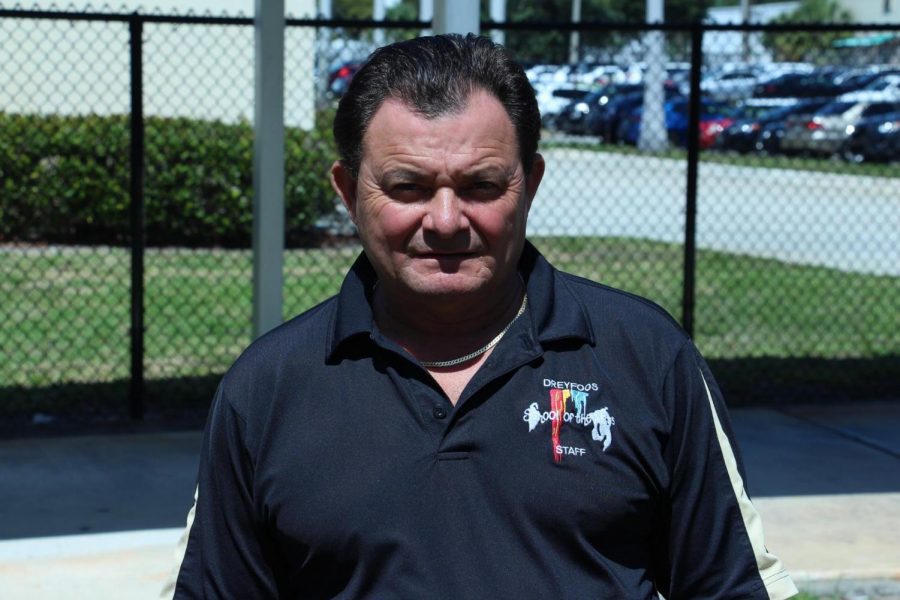 Photo illustration by Sydney Webb
*Quotes translated from Spanish*
With smiles on their faces and music in their ears, Yuritza Hernandez-Salgado, Jorge Torres, and Sergio Canalejo sweep through Dreyfoos' school-grounds. They hear wisps of conversations, frantic studying, and the rush of the student body as they work their ways from Building 9 to Building 1. Every day, they start in one corner and end in another; every day they pick up after students and clean their daily messes, and still every day their work goes virtually unnoticed by most. They are three of Dreyfoos' custodians; they work tirelessly, they watch students stumble through school each day and are offered only the occasional smile in return.
"It would be nice for kids to treat us the way we treat them," Hernandez-Salgado said. "Reciprocating is important, so if someone is nice [or] respectful to you, you have no reason to be mean to them."
Both Hernandez-Salgado and Torres work the day shift, while Canalejo works at night. Day custodians typically arrive and begin working at 6 a.m. and get off duty at 2:30 p.m. Night custodians start their shifts at 3 p.m. and finish around 11:30 p.m., according to Canalejo. In this time, each custodian works different areas of the school, tailing students who leave trash behind.
"I have a lot to do, and it requires a lot of patience to work here," said Canalejo. "With all of the showcases and art performances, there are kids who are running back and forth while I clean, so I have to go around and clean one area, then come back to do the other areas. It takes me a while to finish the job."
Prior to working at Dreyfoos, Torres and Canalejo worked separately as custodians at two other schools. Torres was employed at Dwight D. Eisenhower Elementary School and Canalejo previously worked at The Conservatory School @ North Palm Beach. The move from one school to the other, however, has proved minor for both men in comparison to their stories of immigrating from Cuba and Spain to the U.S. Working at Dreyfoos is more than just a job to Torres and Canalejo—it is an opportunity for them to hone their English language skills.
"I lived in Spain for a bit after I left Cuba [before coming to the U.S.], and so I was not really given a chance to learn great english, and it is something that I've wanted to be better about," Canalejo said.
Also a Cuban immigrant, Dreyfoos is the first school Hernandez-Salgado has worked at as a custodian. This month will mark her second full year on the job, which, as a mother of two, is one of the ways by which she supports her family.
"As an immigrant, the language barrier prevents me from getting another type of job until I can overcome it," Hernandez-Salgado said. "For the time being, you do what you have to do to get your kids by. This is what I found, so it's what I've got."
Being a custodian is a year-round job, contrary to what some may think. While teachers and students enjoy summer vacation, custodians work Monday through Thursday for 10 hours a day each week readying the school for the coming school year. This process involves fixing anything that has been broken or damaged over the course of the year, and making general improvements to the cleanliness of the school as a whole.
"I wish kids would consider the work that we have to do [or] that they give us more often, [and] that they would think about us when they are making messes," Torres said. "I wish they would try to maintain things clean for us. I do think [they] are generally nice to us, and the environment here is caring."
Though obviously the larger portion of their job, cleaning is not all a Dreyfoos custodian does. They are constantly watching students enter and exit the halls of each building, climb the stairs of each floor, and rush to and from each class.
"The most rewarding part of my job here is seeing you guys grow up from a distance. I saw a kid for the first time about two years ago, and today, I saw him in the hallway so much taller. I think he's like 6 feet and 2 inches tall," Canalejo said. "Seeing you guys grow is super awesome."