The Zero Hundred Building: A Legacy of Dreyfoos History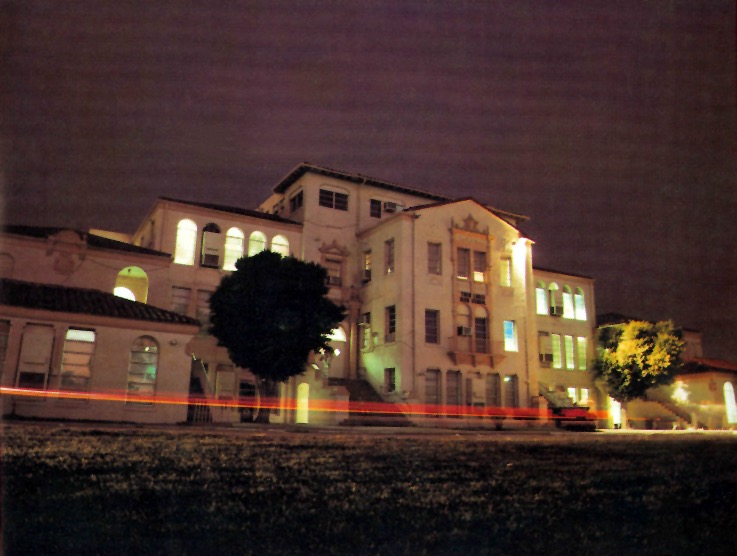 Twin Lakes High School was established in 1908 on the exact campus that Dreyfoos sits on. The legacy of the school, whose students walked the very same halls as today's students, lives on through Dreyfoos teachers.
Math teacher Christopher Coombs graduated from Twin Lakes in 1979. The campus left a lasting impact on him, which is reflected in his teaching.
"I think it's important for Dreyfoos kids to realize the rich history of this campus, not just Twin Lakes, but Palm Beach High [School] as well. The fact that the wooden staircases in Building 2 are closed to students is to preserve part of what makes this campus so beautiful," Mr. Coombs said.
Twin Lakes High School had many distinguishing features that made it memorable. One of those things was its diverse environment, something that was unique compared to other schools in the district.
"There were fewer high schools in Palm Beach County back in the day, and we drew students from the local neighborhood all the way to Southern Blvd. We drew students from Palm Beach. We also drew students from Loxahatchee, Wellington and Royal Palm Beach," Mr. Coombs said.
For English teacher Teresa Beermann, who graduated in 1977, Twin Lakes High School was a new experience for her. After 11 years of attending Catholic school, coming to Twin Lakes High School was difficult. The new and unfamiliar campus wasn't what she was used to; however, she was able to cultivate a life-changing relationship with the school.
"I had a terrific photography teacher named Peggy Phillips. She also taught English and drama. We used to hang out in her room and drink coffee. I am still friends with her and I'm now a chair in the English Speaking Union essay committee because she asked me to."
Ms. Beermann's time at Twin Lakes High School impacted not only her friends, but her career. Through Ms. Phillips, she found her passion, and the halls of Dreyfoos remind her of those friends everyday.
"[Ms. Phillips] encouraged me to be a teacher and to apply for a scholarship to study in Stratford-Upon-Avon and Oxford, England, which I got to do for six weeks," Ms. Beermann said. "I am teaching next to the classroom that was my favorite class: photography.[English teacher Geoffrey] Johnson's classroom was where the darkroom used to be," Ms. Beermann said.
The same was true for other graduates, like communications dean Angela Anyzeski, who graduated from Twin Lakes High School in 1986.
"[Twin Lakes High School was] completely different than Dreyfoos," Anyzeski said. "We had a very diverse population. We had kids from Palm Beach, and then we had kids from West Gate, and from Riviera."
Mrs. Anyzeski enjoyed her time spent in high school. She was the Copy Editor of the yearbook, the Editor-in-Chief of the school's literary magazine, and was very active in student political life. She is still friends with many of the people that she went to high school with.
"I had a very traditional high school experience. We had pep rallies, and we ate our lunch on the front lawn," she said. "There are eight of us, and we all went to Twin Lakes [High School]. We all graduated in '86. We were [the] Twin Lakes Rams. I had great teachers; they helped me find my passion, they encouraged me to write, and they helped me get into college. I was very fortunate in that. I had a great support system."
Mrs. Anyzeski's first teaching job was at Suncoast Community High School. Although she loved it there, when they opened Dreyfoos on the old Twin Lakes High School campus, she wanted to come back.
"When it was open, the debate coach at the time was somebody that had taken over the debate team just for a short period because they didn't have anybody else. I said I would love to teach there because that was my old high school." Mrs. Anyzeski said. "When it came time, I came and interviewed, and I got the position. I was so excited because it brought back so many good memories for me that I wanted to be here. There was such nostalgia here."
When Mrs. Anyzeski came to Dreyfoos, she immediately felt all of the emotion from her high school days. It had brought back so many good memories, and that was the reason she wanted to be here.
"Even the first time I walked on campus, I had just started crying," Mrs. Anyzeski said. "It was a very important part of my life."
Zero Hundred was the name for Building 2 at Twin Lakes High School. Although the names of the building and the school have changed, those affiliated with both schools concur that the spirit of the community will never fade, which has turned Dreyfoos into what it is today.
"This campus, both the old and the newer parts, always have and always will feel like home. On occasion, I walk into another teacher's room, and I am instantly taken back to high school." Mr. Coombs said. "Seeing how the area has changed and become a very attractive place to visit makes me very happy. I know that this campus will be around for a long time to come."
About the Writer
Ali Hussain, Social Media Editor
Communications junior Ali Hussain is in his second year on the staff of The Muse. He is the Social Media Editor with the hopes of gaining a large following...