iOS 11: REVIEW
With the new iPhone 8 and iPhone X underway, Apple has released iOS 11, their latest software update, on Sept. 19. While we delay the inevitable update by consistently pressing the update later button, it's smart to know what iPhone users are getting out of the revamped software.
In case you never read the fine print of the terms and conditions, there have been numerous changes made in the iOS 11 update. Everything from the basic look and style of the interface to the addition of new apps have been included.
Starting off with the lock screen, the most visible changes already are the switch from the thin lines, originally introduced in iOS 7, to less borders and bolder text. Swiping down to the notification center, you will notice the lack of the multi-page notifications and instead what appears to look just like the lock screen. What used to be the notifications drop down and the lock screen have been combined all into one place, and ultimately it has little to no effect to the user, it's just an adjustment from past updates.
Pressing down on the home button to gain access to Siri results in a shocking alteration; Apple has changed the personal assistant to sound more natural, instead of the harsh robotic voice that we have all heard accidentally pop up in the middle of class. With this new voice, Siri can translate newly added languages to English for you and vice versa. Siri has also been calibrated to learn user preferences and syncs this information among multiple devices. For example, if you also use a Apple computer, Siri can help adjust what you are looking for based off what you view online.
Swiping up on your home screen or within an app results in an new feature, a consistent dock screen that shows your favorite apps placed at the bottom along with whatever apps you were most recently on. Swiping up again brings you to the customizable control center with an entirely new layout all on one page. Personally, it seems inconvenient to have to swipe twice to get to something that used to have more accessibility to it. Getting rid of running apps has a new layout in a dual layered grid that shifts after swiping up to get rid of the running app.
This update has also brought about new features such as drag and drop, which allows you to bring images and links from one app to another. Multitasking also has been switched to work in this function. Previously, you could slide from the left and the multitasking tab would pop out, but now the process seems more tedious. Users must now swipe up to achieve access to the dock, make sure that the app is accessible in the dock either by previously having it in your favorites or recently visited it, and hold down to drag it over to the designated spot a drop it in. While the feature was probably designed to make tasks more efficient, it just feels like a time-waster and a hassle that wasn't present in iOS 10. It also isn't accessible if you are typing on a keyboard.
The idea of a dock has also been carried over into iMessages, what used to be a button, allowing access to the App store, Bitmoji, iMessage games, and a handful of others, is now almost a shelf where you can access all downloaded apps that link to iMessage. This takes a small adjustment period, but afterwards it feels like it was always there. Along with messaging, the keyboard has been updated to serve as a one-handed keyboard. Now users can swipe down on existing keys to access numbers and symbols marked on the keyboard in a light gray colored font. Messages are also now capable of being stored in iCloud if you would like that option.
The App Store has made significant changes to the entire look of the application. It now has two distinct sections: one for apps and one for games. The store has also added a new "today" section that updates daily to show the top games and apps for the day or the week.
Notes has also made some slightly smaller changes such as searchable handwriting and document scanning. Apple Music now allows you to see what friends are listening to and share your own music. Maps has new driving advice such as lane guidance, speed limit information, and indoor maps of malls and airports. Getting lost in large malls and airports leaves most people wishing they had the new map features, so this will definitely be beneficial and heavily used.
Some of the minor changes made to the Photos app might go unnoticed without delving deeper. Apple has changed the file format of photos to HEIF and HEVC, meaning that photos take up less space so you don't constantly get the pesky notifications telling you about your lack of storage. Photo editing has also been enhanced both for portrait mode and live photos, along with an upgrade to memories and the organization of the section, making sure the photos selected for the memory doesn't have anyone blinking or the images are multilayered.
While a lot of apps only received minor adjustments, an entirely new app has been introduced to iPhone users: the files app. This app stores your iCloud drive and hosts some third-party apps like Dropbox, Google Drive, and other file storing devices. It can be a bit of nuisance when trying to upload files to a website because it requires you to go through the files app even when you don't need it.
Overall, the release of the new iOS 11 update brings possibly the biggest changes since iOS 7. While Apple does have some bugs to fix, things are looking bright for the company's future. Every update seems to have a learning curve, and this might just have to take some getting used to. There are always some drawbacks to updating, but the technology is stepping in the right direction.
About the Writer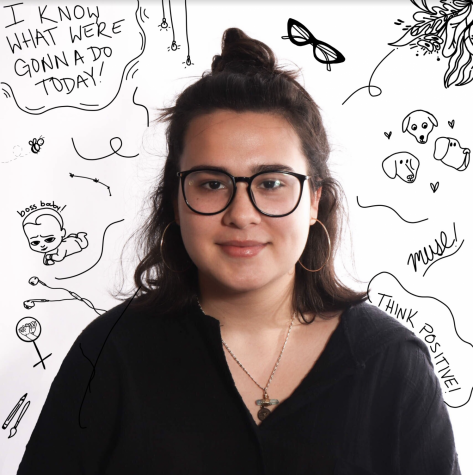 Chloe Girod, Editor-in-Chief
Chloe Girod is a third-year staffer as well as the Editor-in-Chief of The Muse. She thrives off validation and can often be an absolute fool when stressed,...