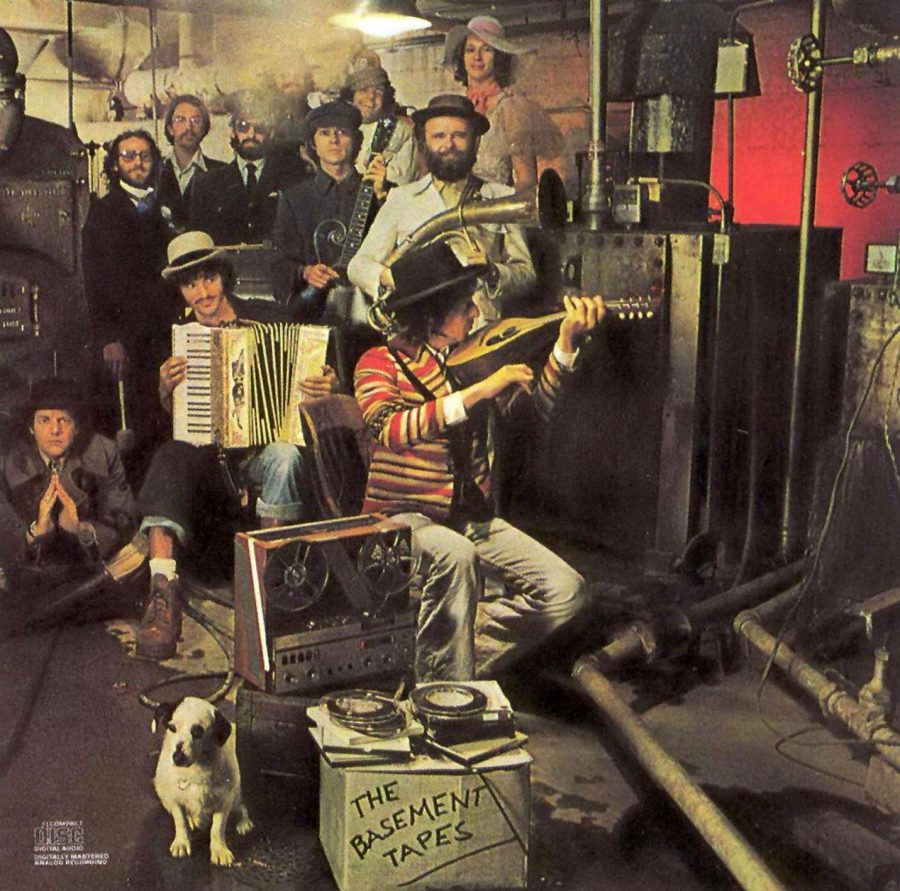 Official album cover released by Columbia Records
Robert Zimmerman, better known by his stage name, Bob Dylan, is a 75-year-old living legend, composing hits that have crawled their way into the hearts of our parents' generation, with his dry, scrawling, blues-y voice, meaningful lyrics and signature harmonica, recording albums spanning over the '60s, '70s and '80s. Though not all can attest to the superiority of his voice, as many believe the sound is a bit of an acquired taste, he is still an inspiration to many — psychedelic rock artist Jimi Hendrix, he served as Steve Jobs' creative God, and is also the reason that the band The New Basement Tapes exist.
In 1967, following his infamous motorcycle accident, Dylan and a few others retreated to upstate New York. Living in a light pink two-story home appropriately named Big Pink, he and his band began to secretly work on an album, drawing many influences on many styles of traditional American music. The album, known today as The Basement Tapes, was released in 1975 and is complete with six CDs and 138 tracks. A selection of these handwritten lyrics from the period hadn't ended up becoming songs, however, and were later forgotten about.
Forgotten until 2013 it seems, because in that year, producer T Bone Burnett received a call. Dylan's music publishing company was on the other line, saying he had found a box, with "1967" written on the outside and a pile of handwritten song lyrics in various stages of completion on the inside. They were penned by Dylan while he was holed up in Big Pink, but he had never gotten around to setting these other words to music; meaning for nearly half a century, they sat in the box, alone, undiscovered and undisturbed.
Dylan's representative was wondering if Burnett would be interested in getting a few musicians together to finish what he started almost 50 years prior –with Dylan's blessing, of course. Upon receiving the box and poring over the lyrics, Burnett began devising a plan, making some calls of his own. By the end of 2013, he'd narrowed down it to five participants—each a singer, songwriter and multi-instrumentalist who Burnett felt "could work well in a collaborative environment and bring something unique to the projector the long-lost lyrics."
Calling themselves The New Basement Tapes, the Travelling Wilburys-esque group consists of Elvis Costello, Marcus Mumford of Mumford & Sons, Jim James of My Morning Jacket, Taylor Goldsmith of Dawes and Rhiannon Giddens of the Carolina Chocolate Drops, and a drummer, Jay Bellerose, who has worked with Burnett in the past.
The band's debut (and probably will be their only) album, Lost on the River was released in 2014, and is chock-full of themes like love, lust, regret, and guilt. It has eloquence, charm, originality — all the elements of a Bob Dylan album, without his trademark harmonica.
"This is the exact opposite of The Basement Tapes," Costello told The New York Times in Capitol Records Studio A. "We're in the best recording studio in the world, and we're not in a basement."
And even if the times are a-changing and battles are a-raging, and if life may have been completely different those 49 years ago when Dylan and the Band wrote the original Basement Tapes, The New Basement Tapes have preserved that for generations to come.