Cartoons and what they mean today
Hang on for a minute...we're trying to find some more stories you might like.
When you hear a show is about a boy and a talking dog, you wouldn't think that it takes place in a post-apocalyptic world caused by a nuclear war. Cartoons are known to be simple, silly and light hearted shows with no deeper meaning. However, channels like Cartoon Network are branching out and introducing concepts with more depth, such as mental health, homosexuality, and death. Adventure Time and Steven Universe are including all these themes more frequently in their main plots.
Both mental health and illness are frequently addressed in Adventure Time thanks to the fact that one of its main characters, Simon Petrikov, also known as the Ice King, is slowly losing his mind due to the effects of a magical crown he found in a cave. Petrikov began as an archaeologist, which is how he found the crown, and as he gained ice powers from it, he later became the Ice King; but in return for the magical power it gave him, he was driven insane. Because of this, he has lost most of his memories, and has even forgotten his name.
The aforementioned nuclear war, known as the Mushroom War, also introduces other unusual cartoon themes like death and loss. Marceline the Vampire Queen was raised by Petrikov when she was young, but she is losing her friend because he does not remember her anymore, as shown in the episode "I Remember You" which explained how their relationship is deteriorating. In the episode "Death in Bloom," Finn and Jake visit the physical form of Death in the Land of the Dead to revive a deceased plant. There is also a villain known as the Litch King who is an almighty embodiment of evil. The Litch's goal is to cause death and devastation all over what remains of the world, as was shown in episodes titled "Mortal Folly" and "Mortal Recoil."
Princess Bonnibel Bubblegum is the ruler of the Candy Kingdom in Adventure Time. Her closest friend is Marceline. Although, the show has revealed there is more between them. There is a very strong bond between Bubblegum and Marceline, they spend a lot of time together and are very affectionate toward one another. Marceline's voice actor, Olivia Olson, mentioned that the two had previously been in a romantic relationship at a book signing for The Adventure Time Encyclopedia. This relationship was further explained and pieced back together in the eight part mini-series "Stakes," that focused on Marceline and how she became a vampire. This is an important to Adventure Time because it shows a different kind of relationship that is not shown many other children's shows.
Steven Universe addresses mental health in the form of anxiety. Steven Universe is a goofy and fun-loving boy, but he's had negative experiences as he learns more about the a civil war in the past and what is expected of him in the future. Universe also lives with the crystal gems. The civil war was called the Great Gem War, and it was a war over protecting Earth between the homeworld and the crystal gems. The crystal gems include: Garnet, a strong-willed gem who is quick on her feet; Pearl, a wise gem who is always worries too much; and Amethyst, who is at times immature, and is trying to find her self-worth. Universe and Connie, his best friend, both struggle with anxiety. Their struggles are shown in "Mindful Education" with a song called "Here Comes A Thought," explaining how multitudes of little thoughts build up in your head and can stop you from achieving simple tasks. Lapis Lazuli is another one of the crystal gems, she comes from the homeworld. She got stranded on Earth because she was trapped in a mirror and used to get information during the war. She was trapped once again trapped when she was freed from the mirror, but this time, in an abusive relationship with another gem, Jasper. They address the negative impact this had on them both and relationships like this in "Alone At Sea".
Death is also a part of Steven Universe, as Universe's mother, Rose Quartz, had died in order for Steven to be born. Many homeworld gems died in the Great Gem War, caused when the homeworld gems wanted to take Earth and turn it into a huge farm to grow more gems. Steven's mother believed Earth was worth saving, so she and other gems formed an army and fought against their home.
Progressive relationships in Steven Universe include Garnet, who is a fusion. A fusion occurs when two gems fuse together into one, in Garnets' case, Ruby and Sapphire, which was revealed in "Jail Break." Pearl and Rose Quartz were also in a romantic relationship before Universe was born.
Overall, shows like Steven Universe and Adventure Time are cartoons that are pushing previously established limits. Steven Universe is even censored in many countries due to some violent scenes and risqué dance sequences. Good things are coming from these ideas being shown, it is important for children to see representation of mental health, death and especially LGBTQ+ characters in television, because these themes are rarely shown anywhere else in today's media.

About the Writer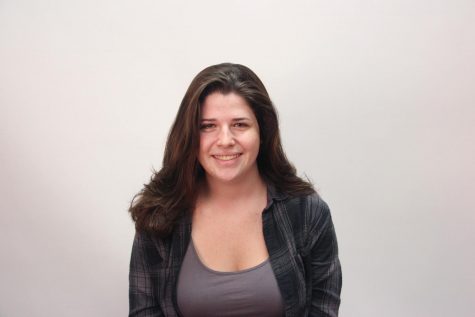 Jenevieve Norton, Layout Editor
Communications senior Jenevieve Norton is entering her second year on The Muse. She is the design editor this year. She hopes to bring dynamic designs...