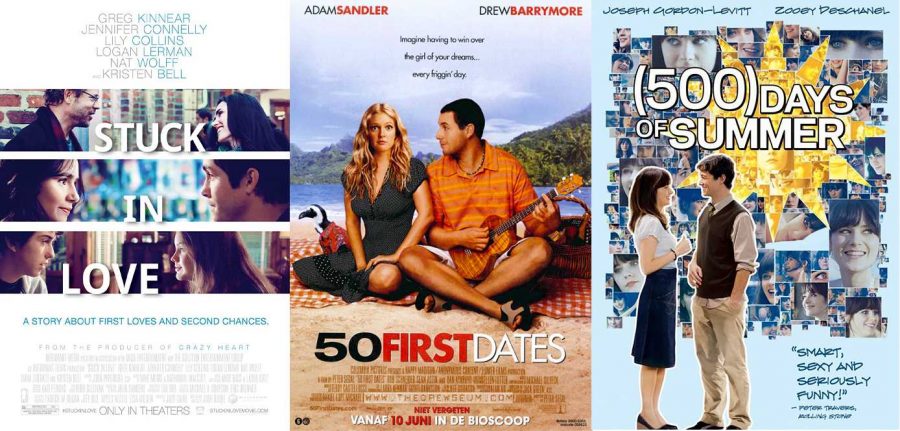 Graphic by Chloe Krammel
I am almost 16, and the only "relationship" I have ever had was in third grade. It was innocent. He gave me a Valentine's Day card that stated I was a "really good friend" with a heart-shaped Dove chocolate on the side, and we went on a date at a park where we played on the equipment and swung on the swings. We might have even hugged once or twice, but that was it. It's not a complaint; I feel rather happy without a significant other weighing me down. There are, however, days when the sky is a little darker and I feel lonely. To remedy my heartache, I insert myself into the life of a movie character. Through time, I have compiled a list of lovey-dovey movies for those like myself who don't pine over their vacuous love lives but rather laugh at its triumphs, tribunes, and others' failed attempts at it.
500 Days of Summer
"You should know up front: this is not a love story," proclaims the narrator of the movie close to two minutes in, but this isn't true. The movie stars Joseph Gordon-Levitt as the hopeless romantic Tom Hanson and Zooey Deschanel as the independent and cynical Summer Finn. It is set up in a way called a "non linear narrative," jumping between the 500 days that Tom knew and loved Summer. "500 Days of Summer" is a perfect movie for someone trying to get over a past relationship, complete with inspiring quotes such as, "just 'cause a cute girl likes the same bizarro crap you do, doesn't make her your soul mate." I think that this movie is good for someone who has recently gone through a breakup and is needing remorse. It shows that dating someone for a while and feeling a connection with them does not always mean that they are the one for you, and although it may be depressing, it is a reality that sometimes needs to be faced. Though the ending of this movie was a little disappointing and somewhat predictable, the soundtrack was killer and makes up for the feeling of discontent at the end.
50 First Dates
The Dynamic Duo, Adam Sandler and Drew Barrymore, are back. By this, I mean they returned to the big screen 12 years ago. In their second film together, Sandler is Henry Roth, a man like Barney Stinson of "How I Met Your Mother;" as he meets girls, goes on one date, gives himself a fake name, and makes up some ridiculous excuse why he cannot see them anymore. Barrymore portrays : Lucy Whitmore, a character completely different from Sandler's. Lucy leads a redundant life, eating waffles each morning at the Hukilau Cafe and painting when she gets home. Henry later learns that Lucy suffers from Anterograde Amnesia, a disease that allows Lucy to believe that each day is Oct. 13 of the previous year, the day in which her amnesia began. I like this movie because Henry's mission each day is to get Lucy to fall in love with him on that particular day, but it is a bit unrealistic. To wake up each morning with a goal that may or may not follow through is difficult and can be heart breaking at times. In the case of Henry Roth, the opposite proves to be true.  
Stuck in Love
"Stuck in Love" follows the four members of the Borgens family in each of their endeavors with love. Rusty Borgens is a 16-year-old romantic, falling hard for a girl in his English class. His sister, Sam, is the opposite, a cynic who believes she is nothing like her brother in his hasty attempts with love. Their father, Bill Borgens, is similar to his son in that he hasn't fully gotten over his ex-wife, Erica, shown by his endless spying on her and setting a spot for her at the Thanksgiving table. This movie shows a more realistic approach to love through its grief, heartbreak, and realization that people aren't who you think they are. The journey the Borgens family goes on is one that many adults and teens alike have partaken, something I liked because of how real it felt. The end, however, highlights the most important love, love of family, showing that even if a significant other isn't there for you, your family always will be.