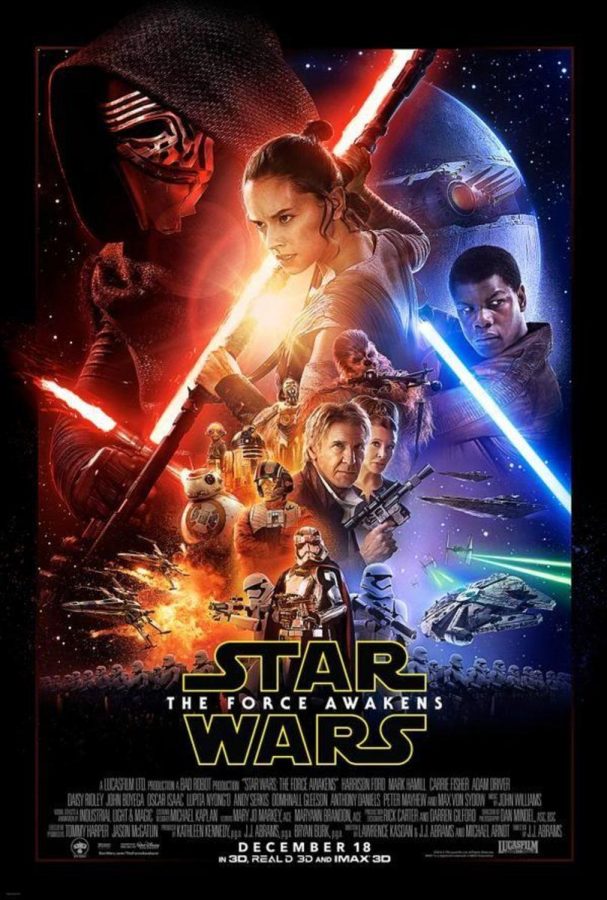 Official poster by Drew Struzan, released by Lucasfilm
"There's been an awakening…have you felt it?" asks Supreme Leader Snoke to Kylo Ren in the new chapter of the "Star Wars" saga. It's safe to say that the world has felt this awakening, as "Star Wars: The Force Awakens" brings the series surging back with new life, nostalgia, and everything a "Star Wars" fan could ask for. From the classic opening crawl to the end credits, the latest chapter in the saga filled fans with excitement and euphoria. This is the movie the series needed after three atrocities, known as the prequels, were released.
"The Force Awakens" tells the story of a runaway stormtrooper named Finn on a mission with scavenger Rey to find the last remaining Jedi, Luke Skywalker. The second the movie began, audiences were thrust into the universe of the films going from planets like Jakku and Takodana all the way to the Starkiller Base, a redesigned and more menacing version of the Death Star. Along the way, audiences will feel like it's the 80s all over again with the familiar faces of Han Solo, Princess Leia, C-3PO, and Chewbacca. The movie delivered on every level, with intense action sequences, intriguing characters, and heart throbbing moments.
It seems director J.J. Abrams made sure he didn't repeat the mistakes of the prequel trilogy, with much less of a dependency on CGI and more interesting stories for us to follow. The new characters of Rey, Finn, and Poe Dameron are excellent new additions to the series while Han Solo and Princess Leia return to the series with a bang to make fans everywhere go crazy with excitement. The new villain Kylo Ren echoes the evilness of Darth Vader, giving the movie a presence to fear throughout. And who could forget BB-8, a new cute little droid who is sure to make you smile and laugh even though you don't know what he's saying. The movie is a gives homage to the original trilogy, especially the very first "Star Wars" film "A New Hope." But this ends up being an issue for the movie. So many plot elements and scenes feel directly taken from the original movie, making this new chapter almost feel like a remake. But in the end, the movie is a fun experience and has many good things about it that it won't matter if it feels repetitive.
Audiences will have mixed emotions throughout, going from smiling to laughing to gasping to crying and back to smiling again. Having already broken so many box office records and having received critical acclaim, "The Force Awakens" is proving to be the best film since "Return of the Jedi,"The force truly has awakened.