67th Annual Emmy Awards
Hang on for a minute...we're trying to find some more stories you might like.
After one of the best years for Television in a long time, the 2015 Emmys finally arrived to award the greatest TV shows in the past year. At the 67th Primetime Emmy Awards shows like "Game of Thrones," "Veep," and "Olive Kitteridge" stole the show, while celebrities like Viola Davis, Jon Hamm, and Uzo Aduba were finally recognized for their great talent.
Starting off the night was the host of this year's Emmy Awards, Andy Samberg, who is a pretty funny comedian when he works with great material. But with the corny jokes that were given to him from the teleprompter, much of the humor fell flat, leading to an average hosting performance. Aside from the shaky hosting, the show was filled with great surprises. The hit HBO show "Game of Thrones" completely stole the night, winning its first Emmy for Outstanding Drama Series after years of being nominated. With 24 nominations and 12 wins for "Game of Thrones," it shattered the record for the most number of wins for a show in a single year, winning not only for best drama, but Outstanding Directing, Outstanding Writing, and Outstanding Supporting Actor for Peter Dinklage. "Game of Thrones" finally received some much needed vindication after losing for so many years, even if these awards were won following its weakest season.
Another hit HBO comedy show, "Veep," won the award for Outstanding Comedy Series, and Julia Louis-Dreyfus, star of the show, won for Outstanding Lead Actress in a Comedy Series. "Veep" broke the "Modern Family" streak of winning the past five years straight, finally giving some recognition to other shows that are much funnier with better material.
But the show was really about the stars rather than the TV series. Jon Hamm, star of "Mad Men," finally won for Outstanding Lead Actor after the show's final season. Uzo Aduba, star in the hit Netflix series "Orange is the New Black," gave an emotional acceptance speech when she won for Best Supporting Actress. The star teared up as she thanked her family for always being there for her.
In a moment that made history, Viola Davis became the first African-American woman to win for Outstanding Lead Actress in a Drama for her role in "How to Get Away With Murder."
"The only thing that separates women of color from anyone else is opportunity," Davis said in her speech about African Americans in Hollywood.
It was a moment that was long overdue; and it couldn't have gone to a better actress, for she has put in many years of hard work into the industry. In the biggest surprise of the night, Tracy Morgan made a return after being in a serious car accident last year, coming on stage to announce he is back at it.
It may not have been an award show filled with the drama seen at the VMAs or the Grammys, but it was definitely a memorable year for the TV industry.
About the Writer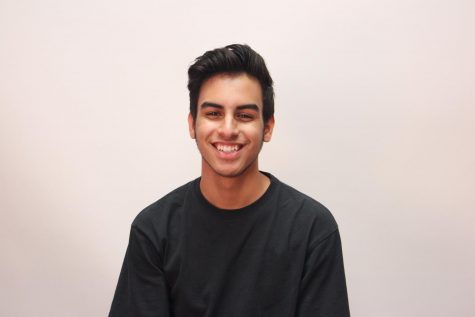 Cody Baez, Opinion Editor
Communications senior Cody Baez is the Opinion Editor of The Muse. It is his third and final year on the publication and hopes to accomplish a lot...