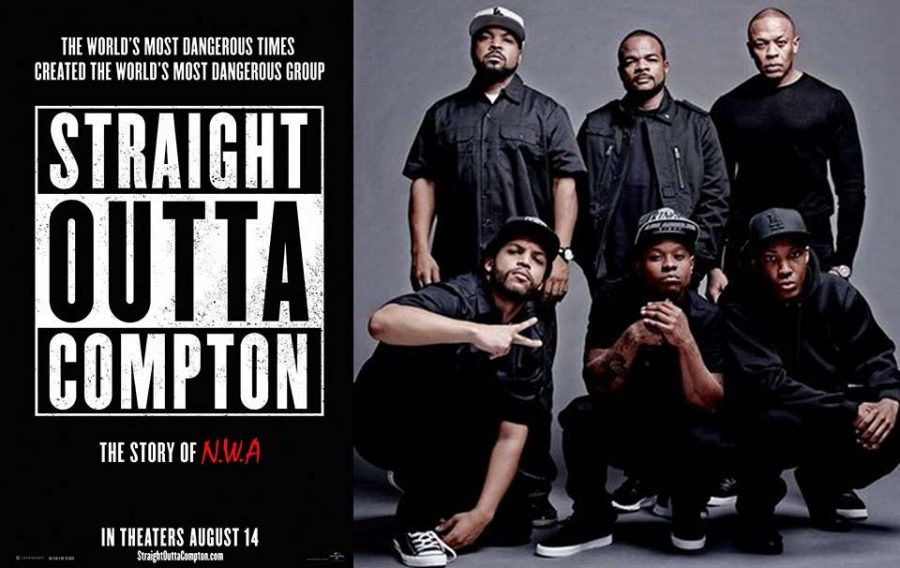 Official movie poster released by Universal Studios
Even though today's generation sees rappers Ice Cube, Dr. Dre, and Eazy-E  as an old fad from the '90s, these three artists popularized rap music in its first stages. These rappers formed the group N.W.A, creating some rap music in the process, and proving themselves far superior to rappers Kanye the-world-revolves-around-me West, the unpopular Tyga, and whoever Rick Ross is. But the story of the pioneers of rap and the subsequent formation of their group had never been told, until the hit movie "Straight Outta Compton" was created.
The movie's story takes audiences through the rise and fall of the rap group in a mix of fun entertainment and emotional hits. The film gets its title from N.W.A's debut album of the same name. The rap group proved its popularity with the massive hype over the release of the movie due to its relevance to current social issues, such as police brutality and the Black Lives Matter movement, and the film's nostalgia value. The movie dominated at the box office in its opening weekend as well, pulling in a $60.2 million in ticket sales. Sales projections had been estimated around $25 million. The movie was praised by critics such as Roger Ebert, writing in his movie review that the film is "funny, angry, sad, and inspirational."
"Straight Outta Compton" may owe its box office success to "Straight Outta Wherever," a website created by Universal. The website allowed users to create a black and white picture with any photo and the logo of the movie. Instead of it saying "Straight Outta Compton," the user could enter any word they wished in place of "Compton." This meme ended up all over Twitter, Snapchat, and Instagram. It led some users to make it more than just about where they are from, but to make fun of celebrities, such as saying Iggy Azalea is "Straight Outta Talent."
Overall, "Straight Outta Compton" delivers an entertaining biopic on a groundbreaking rap group, bringing back nostalgia of the '90s for some and taking over the internet at the same time.