'Parks and Recreation' makes its last swing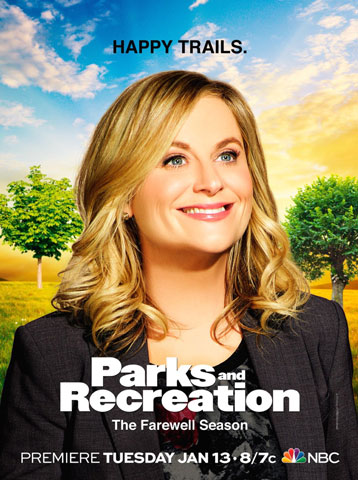 Loyal "­­­­­Parks and Recreation" fans treated themselves to the series' finale, "One Last Ride," on Feb. 24. The episode concluded the popular comedy TV show after six years and seven seasons.
The show, set in the fictional town of Pawnee, Ind., began by following the town government's Parks and Recreation department. Starring Amy Poehler as ambitious workaholic Leslie Knope, the show depicts the characters' struggles with the unpredictable and quirky citizens of Pawnee.
Filled with hand held shots, zoom-ins and annoyed stares into the camera, "Parks and Recreation" may remind viewers of another hit mockumentary show, "The Office." Writers and producers Greg Daniels and Michael Schur originally worked on "The Office" and then carried over its similar style to create "Parks and Recreation."
Just five days before the show's conclusion, "Parks and Recreation" executive producer, writer and actor Harris Whittles died at 30 years old from a suspected heroin overdose, according to The Hollywood Reporter. Viewers may recognize Whittles as one of Pawnee's former animal control workers. The finale paid tribute to Whittles, showing the message "We love you, Harris. –The Parks Crew" after the credits rolled.
If you have not watched "Parks," get on Netflix or Hulu and be ready for unintended binge watch sessions. Its brilliantly executed comedy and fantastic character dynamic will have you glued to your screen.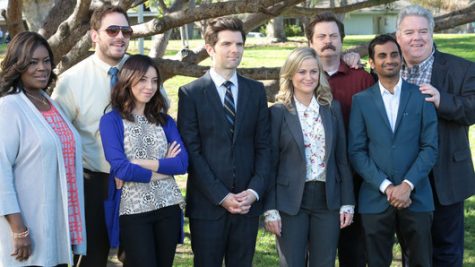 Spoilers:
The final season significantly changed the direction of "Parks and the Recreation." It takes place in 2017, three years after the events of Season 6, save the last scene of the Season 6 finale. At the start of the season, the characters are not as close with each other as they had once been, and some have even become enemies. As the season progresses, however, they all reunite and reconcile, culminating in "One Last Ride." Leslie, Ben, April and Andy are all about to leave for Washington D.C., and Leslie fears that this will be the last time she and all her friends will be together. When a Pawnee citizen enters the Parks and Recreation office and asks for the swing near his house to be fixed, Leslie decides that this will be her and her friends' last escapade together.
The episode acts as both a conclusion and an epilogue, revealing what happens in every main (and some minor) character's life.  As Leslie says her personal goodbyes to everyone, the camera zooms into their handshakes and hugs and the scene cuts away to what that character will be doing in the coming years.
This form made "One Last Ride" perhaps one of the most satisfying endings to a beloved TV show. Fans can rest assured knowing what will become of all of the characters, from Leslie (who becomes the Governor of Indiana) to Jean-Ralphio (who fakes his own death to run away with his sister to open a casino in Tajikistan, but is seen at his own funeral after he and his sister sing too loudly in typical Saperstein fashion).
We learn that Donna goes on to become a successful real estate agent and transforms her and Tom's "treat yo' self" concept into an philanthropic foundation called "Teach yo' Self" to help her husband, a teacher, and his students. Craig, the hot-tempered perfectionist who takes over the Parks department after everyone leaves, will become a singer and marry Donna and Ron's hairdresser, Typhoon. (If you look closely during the scene in which elderly Typhoon and Craig are in a plane, you can see Jean-Ralphio's name on a champagne bottle. Jean-Ralphio finally found success after all.) April and Andy, despite April's initial reservations about having children, have a son named Jack to "bring in some new team members." Tom decides to expand Tom's Bistro into a national franchise, but fails and becomes an author (his books include "Failure: An American Success Story") and inspirational speaker about his past failures. Ron resigns as the head of Very Good and becomes the superintendent of Pawnee's national park, a job Leslie got for him. Leslie serves two terms as Governor of Indiana and gets a library named after her (of course, it had to be a library).
Perhaps the most surprising reveal was that Gary/Jerry/Larry/Terry/Barry Gergich went from temporary interim mayor to the official Pawnee mayor, was reelected term after term and lived to be 100. Aside from the constant mocking from the rest of the characters, whom Gary loved anyways, Gary led the perfect life.
Ann and Chris reappeared in Leslie and Ben's fast-forward, completing the full cast reunion. (Except for Mark. Remember him?)
Just about the only thing left unanswered was why Leslie and Ben had secret service with them at Gary's funeral. It implies that one of them eventually became president, but not which one. Did Leslie achieve her dream of becoming the ultimate public servant, the President of the United States?
In the end, "One Last Ride" was about the growth that each character experienced, specifically with the help of Leslie. From giving Ron a job she knew he would love to acting as April's mentor, Leslie impacted everyone on the show. Leslie, with her detailed and individualized scrapbooks and her uncanny gift for perfec­­t gift-giving, loved all of her friends and always wanted the best for them, and has a hard time leaving them. However, the finale demonstrates that everyone finds happiness and success on their own, including Leslie herself.
Fans may not have been ready for "Parks and Recreation" to end, but Leslie was. In the final line of the show, when Ben asks if Leslie is ready to take the last picture of the friends together before they go their separate ways and for the future in general, Leslie says, "Yes. I'm ready."
About the Writer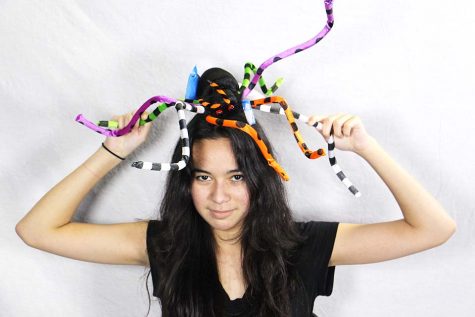 Samantha Rose, Editor-In-Chief
Communications senior Samantha Rose is a third-year staffer and Co-Editor-in-Chief of The Muse. She has had a passion for writing since middle school and...