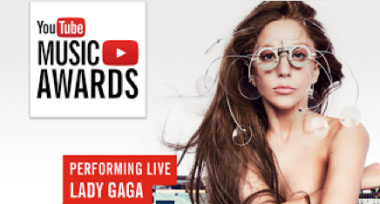 credit to YouTube
From live music videos to crying babies to interactive short films, the YouTube Music Awards certainly did not abide by the rules of traditional award shows. On Nov. 3, the first YouTube Music Awards (YTMAs) aired on YouTube live from Pier 36 in New York City. Comedian and actor Reggie Watts and actor Jason Schwartzman hosted.
The purpose of the show is to recognize musicians who have used YouTube to gain fame. The awards given out were Video of the Year, Artist of the Year, Response of the Year, YouTube Phenomenon, YouTube Breakthrough and Innovation of the Year. Nominees and winners ranged from renowned celebrities such as Macklemore and Taylor Swift to minor artists like Lindsey Stirling, who gained most of her fan base from YouTube. A notable winner is Girls' Generation, a South Korean girl pop group who won Video of the Year with their song "I Got a Boy," defeating huge artists such as Lady GaGa, Justin Bieber and Miley Cyrus.
The most unique part of the YTMAs was the live music videos. Artists would perform a song live at the awards show, but it was filmed, directed and broadcasted as if it were a regular music video. Viewers had the impression that they were watching a prerecorded and edited music video, but everything was happening live. The YTMAs opened with a live music video of Arcade Fire's "Afterlife," which featured a woman saying goodbye to her lover and launching into a solo dance number before joining Arcade Fire on stage. The performance was complete with sets that gave it the atmosphere of a typical music video.
These live music videos continued throughout the show, with artists such as Lady Gaga, Tyler the Creator, Lindsey Stirling, M.I.A. and Eminem. Some artists such as M.I.A. and directors took the opportunity to put on extravagant presentations. M.I.A. presented a bright, colorful and at times disorienting performance of her song "Come Walk With Me." Lady GaGa's delivery of her song "Dope" was the simplest of the night, which is surprising considering her usual flair for theatrics. She sat in front of her piano and played with great emotion, wearing a flannel shirt and cap reading "DOPE."
The show also included a live short film entitled "Choose You" set to Avichi's music and featuring Vanessa Hudgens. At the climax, everyone on set froze in place, and Shwartzman gave the audience the chance to choose either a happy ending or a tragic one. As expected from a young and drama-hungry crowd, the audience opted for tragic.
The YTMAs are an interesting concept that has the potential to become something great and out of the box. However, much of the first-ever award show fell flat, which can be attributed to the show's lack of scripting. The directing team behind the event chose not to script the show to make it more real, because YouTube is a platform for anyone and not just artificial personalities. The intension was authentic, but the execution was not successful. Shwartzman and Watts were simply not cut out to host the entire show on their own, which resulted in awkward jokes and obvious discomfort. Some of the things that were planned made little sense. Whoever thought it was a good idea for the hosts to hold two babies for no apparent reason while they presented Macklemore with his award needs to revaluate his career choice.
The YTMAs definitely needs some work and more detailed planning. In a couple of years, once all of the glitches have been smoothed out, the unconventionality of the YTMAs will likely result in an entertaining and popular award show.