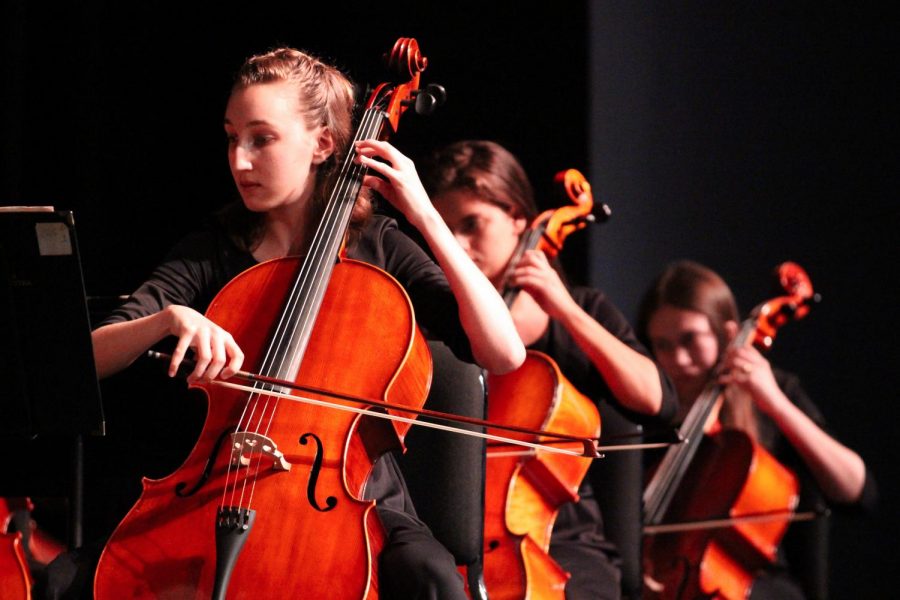 Hannah Baldwin
In 1880, Pyotr Tchaikovsky sent a letter to a publisher about one of his latest pieces, "Serenade for String Orchestra in C major, Op. 48." He wrote, "I love this Serenade terribly, and fervently hope that it might soon see the light of day."
With the Strings Orchestra Concert in Meyer Hall on Dec. 12, Tchaikovsky's hopes were fulfilled. 
Strings students of all grades performed a short concert that included all three movements of J.S. Bach's "Violin Concerto in A minor, BWV 1041." It was described by musicologist John Butt as "perhaps Bach's most animated and carefree movement in the minor mode." The night ended with the 10-minute first movement of Tchaikovsky's "Serenade."
"There's something about the melody of [the serenade] that just really, really captivated me," vocal junior Leilani Riccio said. "I've always been impressed [by the strings department], but seeing them do a piece as long as 10 minutes was crazy. They must have really good stamina to be able to do that."
Because of time constraints due to juries and Prism concert preparations, students began rehearsals in mid-October, practicing in and out of class.
"I feel like we all like stepped up to the plate because we didn't have that much time," strings freshman Sofia Plaza said." It was a lot to prepare for."
For strings freshman Aine Mullen, who was second chair viola for the concerto and third chair for the serenade, the final song was especially daunting because "[there were] so many runs in it," or short, rapid notes strung together. 
"For our second piece, we were like, 'This is going to be really hard,'" Mullen said. "We weren't even sure if we were going to be able to do it because it's so complex. I wasn't sure if I was going to personally be able to do it, but in the end I had it down. I really surprised myself and felt proud."
Because of limited time, rehearsals mainly took place in practice rooms and the strings room in Building 7, and the sound "was not it," Plaza said. When performing in Meyer Hall, though, the sound took on an extra richness.
"[Meyer Hall] has such a different sound than the strings room," Mullen said. "Everything resonates so much more, and you feel like you're the only one playing even though you're not."
Aine's father, Ken Mullen, said he appreciated the "depth" of the violin section, but seeing his daughter perform was even more fulfilling.
Mr. Mullen said, "One of my favorite parts was being able to see her."