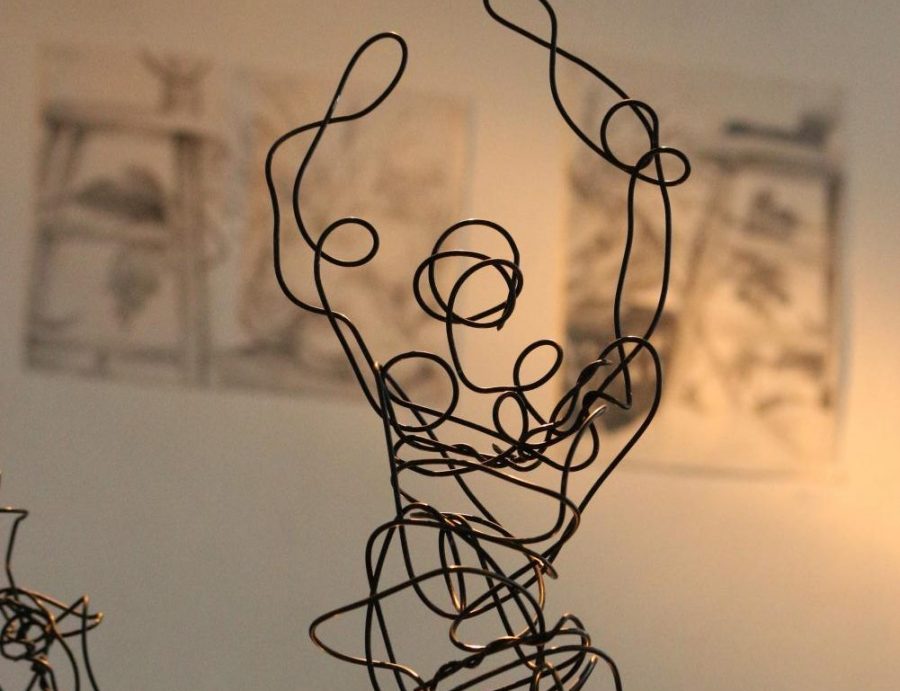 Sophia Roberts
Drawings and photos created and taken by the freshman class lined the walls of the second floor of the Building 9 gallery. Wire sculptures and other three-dimensional pieces were scattered on small podiums throughout the room. Digital media and visual freshmen, along with  several other students gathered by the art pieces they created throughout the first semester at lunch on Dec. 11. 
"Most of the time, I don't get to see what everyone's working on," visual freshman Victoria Gonzalez said. "At these shows, I get to see what they've been doing for the past few months."
Seeds Literary and Arts Magazine encouraged the artists to submit their original works so that new students could get their artworks published. This event was a great way for the magazine to gain submissions.
"It's a really good way to publicize Seeds. We're trying to get some more submissions," communications senior Cassandra Glover said. "We go to the source and say, 'Oh I really like your piece. You should submit to Seeds. Your work is amazing.' It's great because they don't feel their work is good enough and when we're there, we can talk to them."  
With this being the first year that a freshman art showcase was hosted the freshman had the opportunity to experience new emotions and audiences through their art.
"At Bak, we had things like this and not a lot of people showed up, but at Dreyfoos there are a lot of people here," visual freshman Victoria Xie said. "I've gotten more bold with my art and use new materials."
The students' peers have noted and acknowledged this improvement, which shown by the collection of conversations and occasional embraces.   
"I feel very happy because I'm able to see the process of them making art," strings freshman Daniel Lu said. "It's inspiring, and I'm really proud of my friends."
The new experimentation with materials like wood and wire and concepts like miniature art is something that teachers have noticed and admire.
"There's been a huge improvement in their technical skill and conceptual way of thinking since the beginning of the year," digital media dean Melissa Glosmanova said. "A lot of students come in with a lot of talent and a lot of drive. The change I've noticed over the past couple months has been incredible."