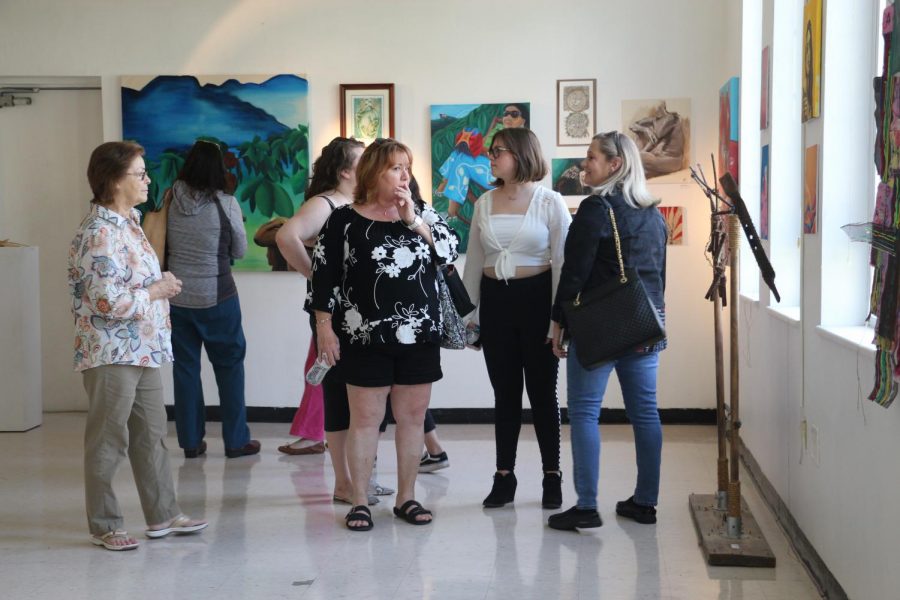 Adam Goldstick
Upon reaching the Building 9 stone fountain, turned green with rain and time, the building's personality is hard to miss, from the sculptures in the gallery room to the memes painted on the ceilings. But, with the opening of the Visual Arts/ Digital Media Spring Show, the walls came to life with student work, bursting with color and feeling. The stairways showcased photographs, and the gallery room presented sculptures sitting on black pedestals—all connected by the walls covered with watercolor canvas, charcoal sketches, and neon screen prints.
The show opened on Wednesday, April 10, but student artwork will remain for at least another week. The annual gallery attracted a crowd of people who admired the art and enjoyed refreshments. To read about the 2018 Visual Arts/Digital Media Spring Show, click here.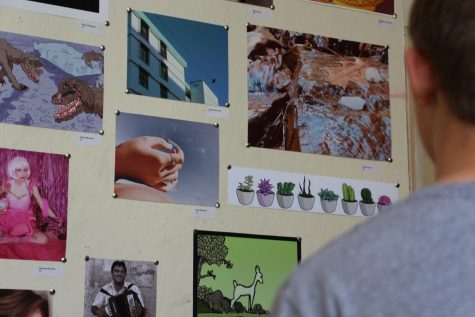 The walls showcase student art from digital media junior Gabby Starnick, as well as from digital media seniors Julian Miranda and Kate Riniker. Riniker's piece, titled "East Coast Daze," embodies her personal connection to the ocean. "One way that I've always felt most connected to the ocean is floating in the sun and dragging my hands through the sand," Riniker said, "letting the billions of shell bits run through my hands. I shot this specific image with the intent to show [a] connection with the sand."
Another photo, captured by Riniker, is featured at the gallery that experiments with texture and depth, but still maintains her theme of oceanic symbolism. While many of her featured art pieces in the Spring Show focused on the ocean, most of her photos come from elsewhere. "Normally, I'm in a more green, earthly setting with more going on in the image, as well as subjects," Riniker said. "But, these beach shots are meant to be shown as a calm environment and a personal time of reflection."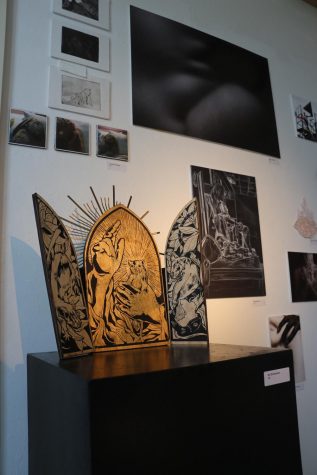 Visual senior Gillian Dickinson's piece is illuminated by a bright spotlight in the Building 9 gallery. The piece, titled "Altarpiece," exemplifies "commentary on Christianity throughout history as well as recent controversy in the Catholic Church," according to Dickinson. "It's inspired by early Byzantine artwork," Dickinson said. "Altarpieces were a format often used to depict religious icons, so I wanted to use that format to explore the themes in my portfolio. I really enjoy using symbolism, such as halos and gothic arches." Dickinson has recently been recognized on a national level by the Scholastic Art and Writing Awards, which awarded her a National Gold Key.
Artwork spans from ceiling to floor on the Building 9 stairway. With every line of vision, a multitude of styles and themes were showcased, from portraits of people who are significant in the artist's life to abstract work derived from their imagination. To accomplish this, preparation began months before the gallery showcase both in and out of class. According to Riniker, planning is an integral part of making art, especially for artwork with a deeper message.