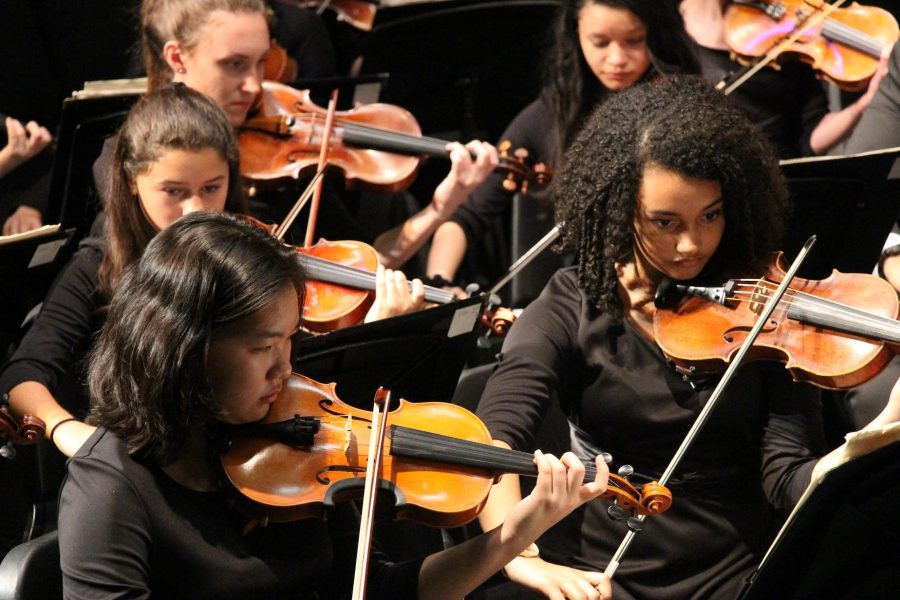 Photo by Ruby Rosenthal
Melancholy melodies filled the Brandt Black Box Theater on Feb. 17, as the the strings department held their first orchestra concert of the semester, featuring violinists, violists, bassists, and cello players galore. Conducted by strings teacher Wendell Simmons, the concert featured four pieces: Little Suite, Op. 1 from "Praeludium Intermezzo," Elegy from "A Download Suite," Intermezzo Sinfonico from "Cavalleria Rusticana," and Serenade for String Orchestra, Op. 11 from "Marcia."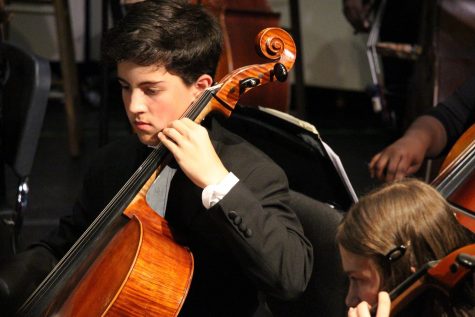 "One thing that was different [about this concert] was the music [that was played]," strings freshman Annabel Schreiber said. "We learned some new pieces but also got another chance to play things that we had already performed. Also, this concert was in the Black Box [Theater], while our previous concert was in Meyer Hall, which made it tight space-wise- [something] we weren't that used to."
Beginning in the first semester, strings students practiced many of the symphonies heard at the concert in their individual classes. On the day of the concert itself, however, students usually stay after school for 45 minutes to rehearse more difficult pieces one last time before the concert begins.
"We've been practicing some of the repertoire since last semester, and some we just learned at the beginning of this year," strings junior Emily Maio said. "Every class period we either start to learn a new piece or rehearse an old one to prepare for our next concert, and each piece takes several class periods and a couple after-school rehearsals to have it all come together."
After closing the fourth and final piece, students stood from their chairs and bowed, signaling the end of the concert. Parents flooded the halls of Building 7, congratulating their children on a job well done.
"Some of the repertoire had challenging parts for certain instruments, but the people in those sections worked hard and once we put it together it sounded very nice," strings freshman Hannah Xie said. "It was rewarding because we could perform it for our friends and family."