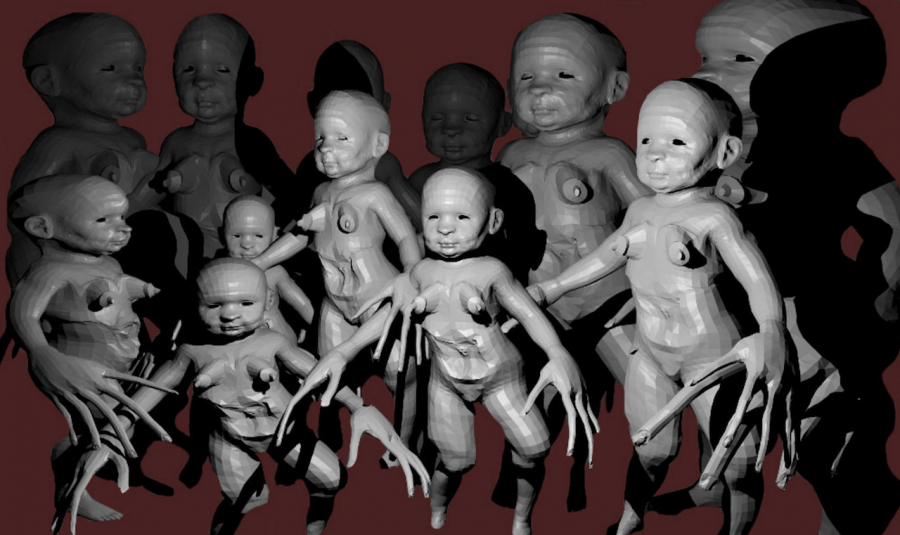 Photo courtesy of Ava Sodergren
On the visible surface of a painting or sculpture, people see feathered brushstrokes, bold accents, vivid colors, and intricate designs, but there is always more than what meets the eye. Visual junior Ava Sodergren strives to inspire and educate people about social problems through her artwork.
"With my artwork, my goal is to give people a reaction, usually a negative one," Sodergren said. "Some artists paint a pretty flower, but I believe that art is so much more than a flower. It can address social problems in society and change people's views on a subject."
Within a society, people tend to classify artwork as either portraits or landscapes. Sodergren has refined the way people associate art through her style that cannot be restricted into these two categories. With her individualistic artwork, she radiates a message that defies all social issues. The Dreyfoos environment has provided a place where she can grow not only as an artist, but as a person who wants to advocate her thoughts and educate people about negative social norms.
"[The Dreyfoos artistic atmosphere has influenced my artwork] because the teachers are so inspiring and accepting," Sodergren said. "They help me find what I want to focus on and give me advice on how to complete it. Also, the students at Dreyfoos all inspire one another every day."
Issues like ignorance and close-minded people are exemplified through Sodergren's artwork. Sodergren forwards that message through pictures of babies because of their symbolic representation of purity and innocence.
"[Social issues that I advocate are] the non-acceptance of other people's way of life. People are so close-minded of others who openly voice their opinions," Sodergren said. "I think most of society, especially older generations, have trouble opening their minds to our rapidly changing culture and look at everything with more conservative views. I use a lot of babies in my work because of their innocence, yet it also resembles me. I put the babies in awkward positions to manifest the way society can make us feel with their stubborn attitudes towards our generation."
Despite being in an artist slump during her freshmen year, Sodergren has been able to bounce back with a stronger message. Powered by dedication, she spends her hours brainstorming ideas, her days planning her next masterpiece, then weeks and soon months completing her artwork. Furthermore, Sodergren dedicates free time to perfecting her artwork and ensuring that her message has been brought forward through a combination of colors, strokes, and creativity.
"People need to be more open to new artwork," Sodergren said. "We have to open our eyes to what's going on in the world and acknowledge it. One way is through art. Without artists, everyone would be so close-minded."
To Sodergren, art has the ability of enabling creativity, empathy, while stimulating creative thinking. Aspiring to flout social problems, she takes inspiration from artists such as Patricia Piccinini and Egon Schiele, while conforming it to her own personal style of artwork.
"Basically, art decides everything that I want to do. My life revolves around art," Sodergren said. "One thing that I want everyone to know about art is that it is so much more than just a pretty painting, art can change our perspective of the world."
Simply put, an art museum encompasses a collection of artwork, featuring delicate strokes that an artist skillfully plans. Although people normally associate the visual displays as being similar in style, each one tells a distinctive story and attributes a deeper meaning. Either it be created by Ava Sodergren or another artist, art is a facet of communication in the form of a visual masterpiece. After all, a picture is worth a thousand words.