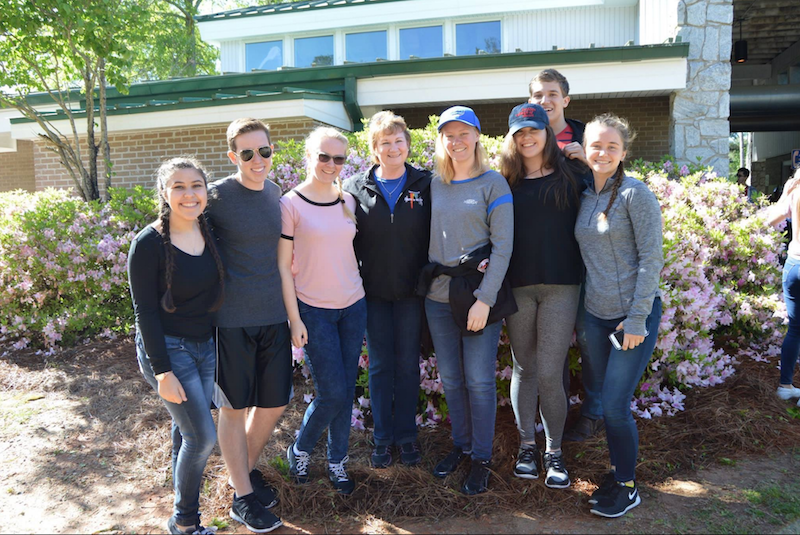 Photo courtesy of Alexa Burnston
Twenty-­six years ago, Dreyfoos was nothing but a small, struggling school; known first as the Palm Beach County School of the Arts, it was an institution that had few teachers, few students, and few accolades­­, yet had distant dreams of making it big.
Vocal director Arlene Sparks was there from the beginning: ­­watching, waiting. She directed all of her time, energy, and resources into creating a thriving vocal department–­­one that would earn the respect of colleges and conservatories across the nation. Now, after 26 years, Ms. Sparks is finally putting down her graceful hands and retiring from her position.
"It's so hard to see her go because she's the one who started it all," vocal sophomore Abbie Lafferty said. "[Ms. Sparks] was the first choir teacher I really connected with. She was the one who showed me that, even though I struggle, I can still achieve greatness as a singer."
Throughout her years at Dreyfoos, Ms. Sparks has achieved numerous feats that few schools can rival. Under her tutelage, the vocal department has won international competitions in Wales and Italy. They've received standing ovations while performing at Carnegie Hall in New York and the Disney Concert Hall in Los Angeles. Recently they were invited by the American Choral Directors Association to perform at the Mormon Tabernacle at its National Convention in Salt Lake City, an honor extended to only three high schools in the nation. However, Ms. Sparks feels that her biggest accomplishment is crafting a challenging curriculum, ­­one that allows singers to grow in both their personal and future professional lives. This entails learning songs in a multitude of languages, including French, Italian, German, and Russian; this requires the singers to be flexible, perform many different genres of music, and rehearse for hours on end to perfect their songs. Most notably, Ms. Sparks' curriculum challenges students in that they're not expected to simply memorize a set of notes, but to research and learn the backstory behind their music.
"From the beginning I've had very high standards," Ms. Sparks said. "I was challenged by the first principal, Edmund Duhy, to create a really fine program. But in order to be a good musician, you can't just sing. You have to practice, learn to sing healthily, become musically literate, and most importantly, you have to know the meaning behind the notes. You have to know what you're singing about, and you have to commit to researching the song you're performing. Also, the curriculum doesn't just require hard work and creativity from the students; it's required from me as well. Over the years, the students have inspired me to make adjustments, so I can teach to their needs as opposed to teaching a set curriculum."
On May 14, the vocal department hosted its Spring Choral Concert, ­­the very last event that Ms. Sparks will direct on a Dreyfoos stage. Meyer Hall was packed to the brim, with every seat filled and the surrounding walls lined with spectators, as the vast crowd had come to witness the end of an era.
"It's so humbling to see all of you here," Ms. Sparks said at the event. "As you watch and listen, breathe in the music and exhale love back out to us."
The audience hummed along as the Singers' Ensemble performed generational classics, such as "Penny Lane" by the Beatles and "Bohemian Rhapsody" by Queen. They roared with laughter as the Singing Gents performed humorous songs such as "Manly Men" by Kurt Knecht, a number that mocked traditional vocal roles. Furthermore, the theater was filled with a solemn, yet auspicious air as the vocalists performed "Pour Toi Mere" by Sydney Guillaume.
"It was such a beautiful performance; each song elicited different emotions from me," band senior Ahmad Johnson said. "I smiled and laughed at times, but the whole concert had this undertone of sadness because this was the last time that the seniors and Ms. Sparks would perform on a Dreyfoos stage."
Throughout the concert, Ms .Sparks stood up on the stage­­, her chin held high. She was determined to make this concert one of her best; every movement, every gesture, every action, and facial expression exuded emotion and nostalgia, yet radiated love and happiness.
"Overall, this has been a sad, but very meaningful year for me. I love working with students, and over time here at Dreyfoos we have created a sonic masterpiece. To not have this canvas of student singers, I am losing my favorite creative outlet," Ms. Sparks said. "But when I was directing [the Spring Choral Concert,] I knew that I had a job to do and that was to lead a great event. It was really more about the seniors' last moment, so I wanted the focus to be more on them than on me."
As the concert came to a close, alumni, seniors, and underclassmen filed onto the stage and joined hand in hand for a rendition of "Here's to Song " by Allister MacGillivray. The song was a declaration of friendship, love, and unity­­, not just for the singers but for the Dreyfoos community as a whole.
"It was an amazing moment for all of us," vocal junior Makayla Forgione said. "The feeling of singing with the whole vocal department was so satisfying; I felt that we harmonized beautifully, and our voices all complimented each other. It was a great way to say goodbye, not only to the seniors, but to Ms. Sparks."
Essentially, Ms. Sparks will leave a legacy of greatness at Dreyfoos, one that will continue to resound with students and faculty for years to come.