Legally Blonde: Opening Night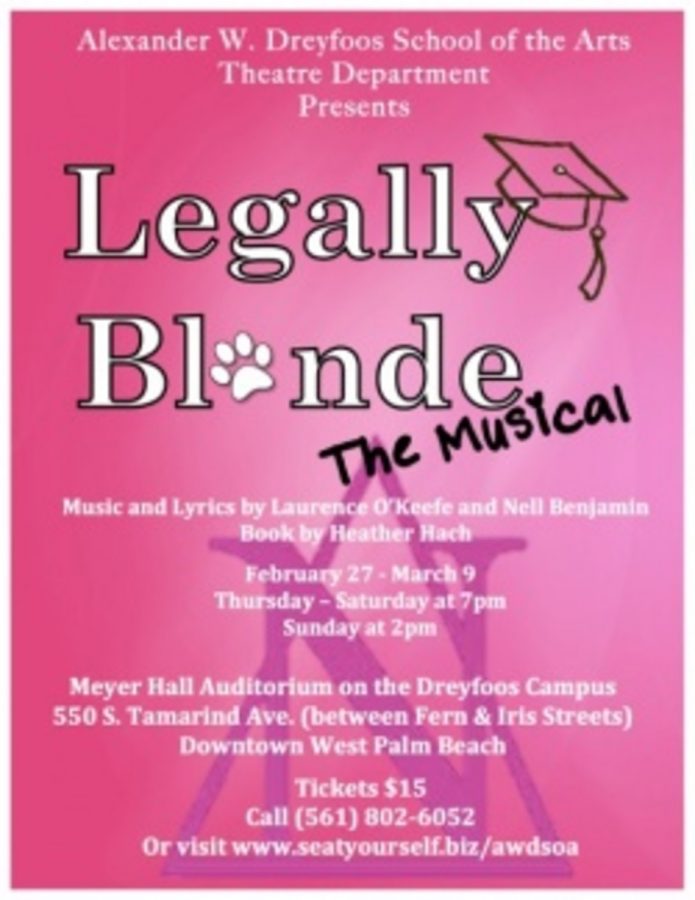 The energy of the dressing room backstage could be felt as vibrations of excitement rushed through the auditorium. After months of anticipation and the cast and crew getting "Whipped into Shape," the opening night of Dreyfoos' version of Legally Blonde: The Musical had finally arrived.
"The process of Legally Blonde has been nothing but fun," said theatre junior Olivia Dei Cicchi, who plays Elle Woods, the main character. "Everyone is enjoying themselves in the show."
The entire process started almost a year ago. At the Multicultural show last year, the theatre department announced that Legally Blonde would be the spring musical and the news spread like wildfire across campus. Auditions were held this past winter.
"I auditioned for the show because everyone wants to be in a Dreyfoos production," said theatre senior Sarah Hardwick, who plays Margot, a Delta Nu sorority girl. "The show is special because we're kids and we bring a new youth to Legally Blonde."
Once the show had been cast, theatre students began the rehearsal process, starting with the big dance numbers, then moving to vocals, blocking, and finally working the transitions in the end.
"Each and every person that has anything to do with the show brings a whole new and totally different outlook than the original. We all bring something new to the table," said theatre senior David Leon, who plays Emmett, Elle Woods' love interest. "If I had to sum it up in one word, exceptional."
A hardship in putting together the show was the amount of time to prepare. The students only had a couple months to begin with, and the fact that Meyer Hall was constantly being used for other shows didn't help the situation.
"The biggest challenge was the lack of time," theatre senior and assistant director Antonio Chicco said. "We ended up losing a lot of time in Meyer that had been originally scheduled for."
Legally Blonde marked the first production in Dreyfoos history to use live animals on stage. The dogs used in the show were from a local animal rescue.
"The dogs rarely do what you want them to onstage but they are very calm and collected," Hardwick said. "Bruiser is my best friend. We cuddle all the time offstage."
Throughout the rehearsal process, one thing stayed consistent: the hard work and dedication the cast and crew put towards the show.
"We encourage the actors to make new discoveries and choices," Chicco said. "They've discovered plenty on their own."
Student had to discover how they wanted to portray their characters throughout the rehearsal process.
"Elle is different from a lot of other characters I've played before," Dei Cicchi said. "Finding her chief objective was the first step to creating her and from there finding new moments is very important in creating this person."
Dress rehearsals would often run until late at night.
"The experience has been rigorous and stressful but worth it," Hardwick said. "I became very close with the people because of this show, my cast members are now some of my closest friends. We're all a family."
When the curtain opened the night of February 27, everything the cast and crew had been working so hard for had finally paid off. Legally Blonde was a huge success.
"I'm so excited for everyone to see the show," Dei Cicchi said. "There will be no doubt everyone will leave with a smile on their face."