How arts helps academics
Dreyfoos is known for its renowned arts and rigorous academics. Students learn how to balance their demanding art areas with their challenging academic course load. However, these two entities go hand in hand. Several studies have found that student participation in the arts improves overall school performance.
 A report conducted by the Arts Education Partnership found that students involved in art instruction do better in reading, writing and math than students who only concentrate on academia.  Researches studied the effects of 62 different art forms, which encompassed dance, theatre, music and visual art, on academic performance, standardized test scores and student motivation.
"Notions that the arts are frivolous add-ons to a serious curriculum couldn't be further from the truth," said James Catterall, education professor at the University of California-Los Angeles. Mr. Catterall led the research and spent several years collecting and analyzing data for the report.
In 2011, the President's Committee on the Arts and Humanities published a report, "Reinvesting in Arts Education," which combined a decade of research on the correlation between arts education and improved student achievement. The report summarized the key points that were found in the collective research: improved student achievement through the transfer of skills, motivation and engagement, problem solving, creative thinking and social competencies.
 The transfer of skills between art and academic classes is a familiar concept to Dreyfoos students. Students, whether they realize it or not, often incorporate skills they've learned from their art areas into their academic learning. Theatre majors are able to apply their knowledge of plays and understanding of characters into English classes. Visual and digital media majors can produce a creative and aesthetically pleasing poster assignment. Debaters know how to effectively present oral projects.
Studies have found that exposure to music education at a young age can improve mathematics skills.
"We have some pretty good data that music instruction does reliably improve spatial-temporal skills in children over time," said Kyle Pruett, clinical professor of child psychiatry at Yale School of Medicine and music hobbysit. Spatial-temporal reasoning, simply put, aids in understanding how concepts and patterns fit together. It is a valued skill in architecture, engineering, mathematics and computer science.
"Reinvesting in Arts Education" stated that high quality arts education at schools improved student attendance. The arts give students an activity to look forward to at school. Many students come to Dreyfoos to benefit from its distinguished arts program, and students are fortunate enough to have at least two classes entirely devoted to an art they are talented in.
In 2013, U.S. News and World Report ranked Dreyfoos as the 67th best school in the country and seventh in the state. The ranks were determined by academic performance and college readiness. Despite having an artistic reputation, Dreyfoos ranked high against hundreds of schools that focused primarily on academics. Students have mastered the balancing act.
About the Writer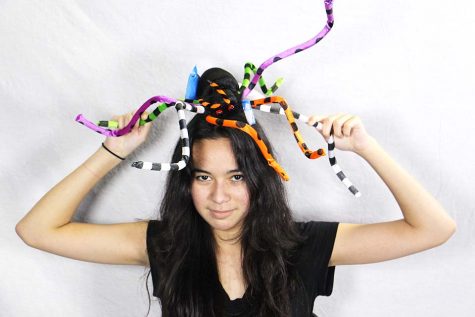 Samantha Rose, Editor-In-Chief
Communications senior Samantha Rose is a third-year staffer and Co-Editor-in-Chief of The Muse. She has had a passion for writing since middle school and...